oil slicks in the Bayou . . . photo set here.
http://www.flickr.com//photos/assumptionoep/sets/72157630330363084/show/with/7461820856/
trees sagging …
/////////////////////////



Reblogged from Assumption Parish Police Jury:
NEW!
and in the NEW PHOTOS posted . . . check how far back you see oily water . . .
From this picture.
/////////////////////////////////////////////////////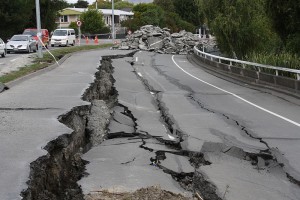 The most powerful earthquakes in the history of the United States happened along the New Madrid Fault in 1811 and 1812.  Those earthquakes were reportedly felt more than 1,000 miles away.  Scientists assure us that one day we will once again see very powerful earthquakes along the New Madrid fault.  It is only a question of when it will happen. Today, the New Madrid fault zone covers portions of Illinois, Indiana, Missouri, Arkansas, Kentucky, Tennessee and Mississippi.  However, a major earthquake of magnitude-8.0 or greater would likely have a dramatic effect all the way from the Great Lakes all the way down to the Gulf of Mexico.  When most Americans speak of the "big one", they think of what may happen along the coast of California someday, but the truth is that a New Madrid earthquake could potentially do far more damage.  So is there evidence that the New Madrid fault zone is waking up?  Yes, there is.  According to Bloomberg, there has been "a sixfold increase in the number of earthquakes that have shaken the central part of the U.S. from 2000 to 2011″.  Much of that increase is being blamed on human activity such as mining, drilling and fracking.  So could human activity aggravate the fault zone so much that it could set off a truly history-making earthquake at some point?  Well, the potential is certainly there.  That is why so many people are so concerned about the monster sinkholes that have appeared in the region in recent months.  For example, a massive sinkhole down in Louisiana is now over 8 acres in size and it has forced hundreds of people to flee from their homes.  You can see video of the Louisiana sinkhole right here.  Over in Ohio, a giant sinkhole has suddenly formed that is more than 30 feet deep and that is the size of four football fields.  That sinkhole caused part of State Route 516 to collapse and authorities say that it will likely be closed for many months.  You can see video of the gigantic sinkhole in Ohio right here.  Are these monster sinkholes an indication that major earth changes are coming along the New Madrid fault?  Has reckless human activity awoken a sleeping giant that we should never have messed with?
The sinkhole down in Louisiana is of particular concern because it has been venting natural gas.  A few days ago it reportedly "burped" which sounds kind of ominous.  Could we see some kind of an "explosion" at some point?
Many of those living in the area may not be able to return to their homes for quite a long time.  The following is from a recent Huffington Post article…
At the eight-acre, Bayou Corne sinkhole in Assumption Parish, owners of slab houses are waiting for methane-gas monitors to be installed in December. The sinkhole deepened in November and coughed up debris and hydrcarbons late in the month. Cypress trees fell into the gap. Residents are watching natural gas being flared from the site and are ventilating homes while bayous around them bubble.
But if human activity is capable of producing sinkholes that are 8 acres in size and capable of causing a "sixfold increase" in the number of earthquakes in the middle part of the country, is human activity also capable of setting off the New Madrid fault?
Sadly, even most Americans that are living in that part of the country don't really understand how incredibly massive and how potentially destructive this fault zone actually is.  The following is from a recent report from WREG in Memphis, Tennessee…
Many people don't realize that north Alabama lies in the impact zone of the New Madrid fault line, a sleeping giant that is approximately twenty times larger than California's famed San Andreas fault. 

The biggest earthquake in U.S. history happened in the New Madrid seismic zone in 1812, and in just the last few weeks, activity along the fault line is starting to heat up. 
If the earthquakes that happened along the New Madrid fault zone in 1811 and 1812 happened today, the devastation would be unimaginable.  Back then, there were not that many people living in the area.  But even so, the destruction was incredible…
Accounts of the 1812 quake vary since there were no measuring instruments at the time, but most geologists say evidence shows it was at least a magnitude 8 earthquake, and possibly a 9 or higher.

The shaking was so intense that church bells started ringing as far away as Boston and New York.

Chimneys toppled from the Deep South to Canada, and President James Madison was awoken by the violent shaking as he slept in the White House.

Eyewitnesses said it even caused the Mississippi River to flow backwards for a time.
Unfortunately, there are now indications that the fault zone is becoming more active as a recent Examiner article explained…
Tuesday evening, two shallow earthquakes, although small, were felt in Mt. Carmel, Ill. as well as five miles outside Edmond, Okla. Illinois had the largest at 3.6 magnitude, leaving Oklahoma with a smaller 2.9 magnitude quake as reported by the USGS.

The fact that both of these quakes were shallow and follow on the heels of Kentucky's 4.3 just 10 days ago makes the questions begin to fly. Is the New Madrid waking up? Is it gearing up for 'the big one'? When Ky. Experienced a 4.3 two weeks ago, it was felt across 10-12 states. Although it didn't knock runners off their feet, it did alarm many. Knoxville was among the cities that felt the quake. The shaking was not minor in many areas, and it scared people as walls shook and many began to pray.
This is something that I have written about previously, and we all need to keep our eyes open for more reports about earthquakes in the middle part of the country.  When the "big one" does finally hit the New Madrid fault zone, it will be one of the biggest news stories ever.
We are talking about a catastrophe that would be so immense that it would be hard to imagine.  According to ABC News, a study by the Mid-America Earthquake Center found that in the event of a major earthquake along the New Madrid fault, "nearly 750,000 buildings would be damaged, 3,000 bridges would potentially collapse, 400,000 breaks and leaks to local pipelines and $300 billion in direct damage and $600 billion in indirect losses would occur."
You can ready much more about the New Madrid fault right here.
All of this is even more frightening when you consider that there are 15 nuclear reactors along the New Madrid fault zone.
In the event that the "big one" strikes, we could be looking at Fukushima times 15.
We have been blessed to have avoided a major earthquake like that for so long in the middle part of the country, but there is no guarantee that the New Madrid fault zone will always be stable – especially considering how much it is being aggravated by man-made activity.
There are even some that believe that eventually we will see an earthquake of magnitude-9.0 or higher along the New Madrid fault.  Such an earthquake could literally change the face of the entire continent.  We are talking about an event that could potentially change the course of the Mississippi River and create bodies of water where none existed previously.
We seem to be moving into a time of increased seismic activity on the earth, and many scientists are convinced that the New Madrid Fault zone is definitely overdue for a major earthquake.
So will we see one in the coming years?
Feel free to post a comment with your opinion below…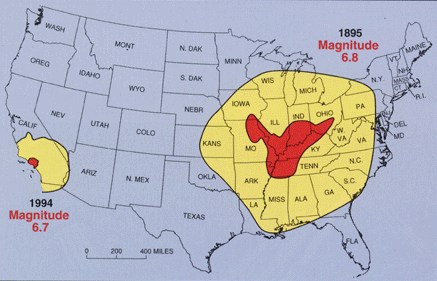 /////////////////////////////////
2013 Super Bowl NEW ORLEANS GIANT Methane Bubble ! THE SINK HOLE CAN KILL!.
http://thewatchers.adorraeli.com/2012/08/25/bayou-corne-sinkhole-radiation-rias/
What Just Happened At The Sinkhole?
A short while ago, the Ceri Monitors for the Louisiana sinkhole went off the charts. What happened? Check out these charts yourself. Has there been some type of a seismic event? The recent video below shares more bad news about it. Additionaly, according to this just released story from the Insurance Journal:
Scientists have noticed a recent increase in seismic activity near the 8.5-acre sinkhole at Bayou Corne, and worry that it might grow again, Assumption Parish officials say.
The increase was first noticed about two weeks ago, John Boudreaux, director of the Assumption Parish Office of Homeland Security and Emergency Preparedness, told The Advocate.
Scientists noticed more than 80 such events on Jan. 18, but activity dropped after the sinkhole "burped" crude oil, debris and hydrocarbon to the surface the next morning, he said.
Boudreaux says officials worry that something may be shifting in salt deposits just east of the failed Texas Brine Co. LLC cavern that scientists believe caused the sinkhole.
Company officials don't know of any seismic activity since Jan. 19, spokesman Sonny Cranch told the Associated Press.
It looks like now company spokesman Sonny Cranch is going to have to change his story, if the charts below are to be believed. Here's some additional monitors…
[link to folkworm.ceri.memphis.edu]
[link to folkworm.ceri.memphis.edu]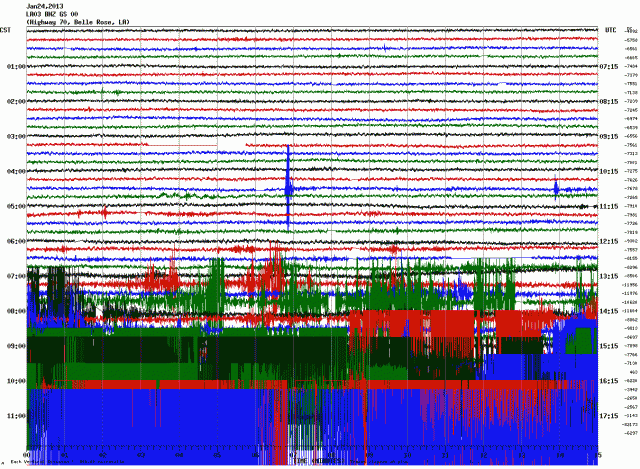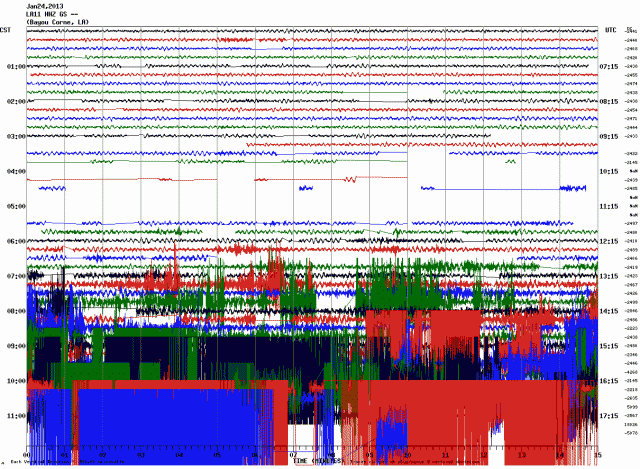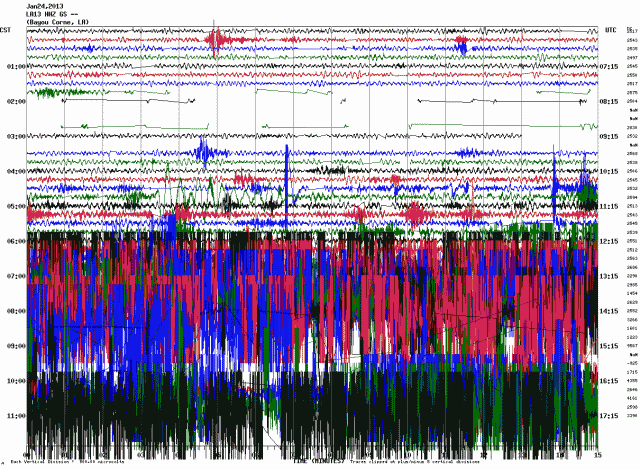 BAYOU CORNE — A dump truck poured yards of earth on top of a dirt pad being built up amid flooded swamplands in northern Assumption Parish.
A bulldozer smoothed out the pile, pushing it to the watery edge of the pad just west of an 8.5-acre sinkhole near the Bayou Corne community.
An excavator scooped up water from the flooded swamp and spread it over the newly leveled dirt. The bulldozer then gave the wet-down pad a final smoothing pass.
Dump, spread, compact. The process continued in that order Wednesday while workers and earthmovers set out to form the pad. As the day wore on, heavy dump trucks waited near La. 70 South for their turns to deposit more fill to build the pad.
A few hundred yards away from this noisy, diesel-fueled ballet, the fresh earth ended abruptly and a flooded road stretched into an inundated swamp, the long path ahead for Texas Brine Co. LLC's contractors and Bayou Corne.
Dubbed colloquially "the Rig Road," the unnamed oilfield track is seen as the means of providing access for as many as seven more vent well sites in the swamps. The wells would be placed in an H-like formation partially tracking the road and a gas pipeline right of way perpendicular to the road, officials said. The area is west of the sinkhole.
After weeks of delays over landowner access issues and public criticism for the slow pace of vent well installation, the seven wells — mandated in an order that state Conservation Commissioner James Welsh issued — are part of a push by Texas Brine to deploy 12 new vent wells in the area, company and parish officials said.
Texas Brine officials announced Jan. 12 that some land agreements were in hand and preparatory work would begin at well sites in the swamp Jan. 18. Once finished, the number of potentially working vent wells will total 16, parish and company officials said.
"We just had this issue of not being able to access a lot of these sites, and now that we're trying to complete that (access process), it has opened a floodgate of activity," Sonny Cranch, spokesman for Texas Brine, said Thursday.
Parish officials said the Rig Road and an accompanying dirt pad also were being raised to handle installation of a new 1,000-foot-deep seismic well and a separate well to test water in an underground aquifer.
Rig Road, along with the new pad, will serve as the hub needed to support sinkhole response and construction of a containment berm to isolate the briney slurry hole from the surrounding freshwater swamps.
Cranch added Thursday that company officials did not have a timeline for when the site preparation would be finished. He said 9,000 cubic yards of earth had been moved into the swamp through Wednesday.
Part of the earthen containment berm will do double duty as a stretch of the elevated Rig Road. Cranch said that a portion of the road must be engineered to serve both as a road and as a berm segment.
While Texas Brine is planning to drill 16 vent wells, there is no guarantee, as in the oil business itself, that all new planned wells will wind up flaring off gas. In the past months, some vent wells have not hit gas while others have filled with sand or hit hydrogen sulfide and been abandoned.
The Rig Road actually may be situated on prime territory for striking underground gas, however. A string of 11 new gas bubble sites obscured in the woods just west of the road was recently found, and bubbling sites could be seen in several locations just off the edge of the pad where contractors worked on Wednesday.
All of the vent wells are expected to reach about 160 feet deep and tap into the Mississippi River Alluvial Aquifer, where gas is trapped as a suspected consequence of the failed Texas Brine salt cavern collapse in the Napoleonville Dome, parish officials said.
The failure of the cavern's side wall deep underground led to a subsurface scrambling that not only released crude oil and gas but also caused the sinkhole to form, scientist have said.
The sinkhole's discovery Aug. 3 prompted an evacuation of 150 residences in the Bayou Corne and Grand Bayou communities, while the discovery of the gas has further re-enforced the need for the nearly six-month-old evacuation order to remain in place.
Four vent wells are now removing 34,000 cubic feet per day of natural gas from a reservoir of 50 million to 100 million cubic feet of gas underlying the communities.
As of 3 p.m. Thursday, a variety of wells, including the four now venting and some no longer operating, have removed a combined total of nearly 5.6 million cubic feet of gas, parish officials said.
John Boudreaux, director of the parish Office of Homeland Security and Emergency Preparedness, told the parish Police Jury on Wednesday in Napoleonville that Texas Brine has plans to install five other vent wells while the Rig Road is under construction.
Two are partially finished on existing well pads on Texas Brine's lease. Two more are planned north of La. 70 near two existing vent wells. A fifth is planned south of La. 70 closer to the Bayou Corne community, he said.
"Their reasoning for doing this is until they get that road built up, the Rig Road built up, they don't have access to get a rig in and start vent wells that have been planned in the commissioner's orders, so they're actually doing these (wells) in preparation for that road to be completed," Boudreaux said.
The incremental progress has offered little respite for some, with a few Bayou Corne residents telling jurors Wednesday they were ready to move on and wanted buyouts.
"I don't care if they ever fix the damned sinkhole. It could go all the way to China as far as I care. I want to get on with my life," said evacuee Kenny Simoneaux, 56, a truck driver who is living with his wife in a camper in Pierre Part.
Cranch said Thursday all of Texas Brine's efforts and resources are currently directed toward the variety of steps required for sinkhole response, but added the company is "very aware of the buyout issue."
////////////////////////////
10/17/2012 — Bayou Corne Sinkhole information
Current information on the Bayou Corne Sinkhole — Dimensions, depth, nearby pipelines, and where the relief wells are placed in relation to the sinkhole :
http://www.edsuite.com/proposals/proposals_280/sinkhole_profile_100412_fi_493.pdf
—————————-
Florida Pipeline Gas Transmission Profile
http://www.edsuite.com/proposals/proposals_280/florida_pipeline_gas_transmission_profile_fi_361.jpg
—————————-
http://www.edsuite.com/proposals/proposals_280/sinkhole_dimensions_10-12-2012_fi_496.jpg
—————————-
Salt Dome Vent Well and Sinkhole Map
—————————-
many thanks to bayou corne blog: http://lasinkhole.com/
—————————-
Also, here is the google doc of the emergency declaration issued on Oct. 12, 2012 for the area:
https://docs.google.com/open?id=167MQNl42rQpy8TW58uEoJTzLvjv-QOAq-irEG7AzMyI9NLTDB8oVNqNdoVGd
—————————-
Assumption Parish Sheriff Michael Waguespack
The Assumption Parish sheriff stated that methane ignition and explosion are possible in the Bayou Corne sinkhole area, refuting naysayers about such an explosion and spotlighting grave human rights issues related to the "history-making event" and "environmental nightmare,' according to a KLFY Channel 10 three-part special televised report aired Friday.
The possibility exists that Louisiana's sinkhole-related methane, percolating in over a dozen sites near and miles away from the sinkhole area, could ignite and cause an explosion, according to Assumption Parish Sherriff Michael J. Waguespack, interviewed about the unprecedented Bayou Corne event unfolding in South Louisiana's swampland.
Waguespack, lover of south Louisiana people and culture, made the statement to KLFY reporter Chuck Huebner about the massive amount of methane known to be trapped below the Assumption Parish sinkhole area surface, continually leaking and bubbling to the surface.
"If it finds a source, an oil well, a water well, it will basically come to the surface. If that's inside of a shed, or something off the ground and it's captured, it's an ignition source," stated Waguespack.
"Then 'Boom,' and you have an explosion," he said.
Numerous comments about the impossibility of methane igniting have been posted on Deborah Dupré's Examiner.com article pages about the Bayou Corne sinkhole disaster.
This week, methane in tap water of a Napoleonville man's home was reportedly bubbling and flammable but claimed to be unrelated to methane leaks in the expanding sinkhole area of Napoleonville Salt Dome and not unusual in Louisiana, according to the Louisiana Department of Environmental Quality on Wednesday.
In early October, the Louisiana Department of Health and Hospitals (DHH) advised the Assumption Parish President that the Bayou Corne sinkhole area had high levels of methane in nearby water wells, posing risks to health, fire and explosion and that residents need to heed the mandatory evacuation order.
Locals were not publicly advised about that DHH notice. Only about 150 of the 350 residents under mandatory evacuation have heeded the order, some saying they will be notified in time to leave if the situation is really life-threatening.
"Crazy," Huebner says in his report, The History of the Assumption Parish Sinkhole. "What else can you call it when part of your parish is disappearing into the Earth?"
The sinkhole developed after two months of methane bubbling in Bayou Corne and Grand Bayou, according to locals and subsequent news reports. The methane bubbles were occurring as thousands of earthquakes were also occurring, according to USGS later reports.
In another massive collapse Tuesday after strong quakes six days earlier, the sinkhole grew to the size of seven football fields.
[Watch each of KLFY's three-part series, The History of the Assumption Parish Sinkhole, here.]
"It's almost like a live animal, everyday," Waguespack told Huebner. "It seems to grow and there's a new issue that develops."
Huebner says that for Waguespack, the most immediate problem has been the continued mandatory evacuation of some 150 people in the area.
"The problem is, nobody knows when it will end."
Experts are telling John Boudreaux, Assumption Parish Director of Homeland Security and Emergency Preparedness that "this is new science," Huebner says.
"The experts have never seen anything like this before."
"Nobody expected anything like this to happen," local businessman Dennis Landry says.
Scientists working on the sinkhole "really have their hands full," Huebner reports. "Although it appears only "one of 67 salt caverns has collapsed," it still has created an environmental nightmare that experts are still struggling to get a handle on."
The report highlights that one big problem is that the aquifer beneath the dome is now "contaminated with natural gas and maybe possibly even oil."
"Fortunately, the area's drinking water does not come from the aquifer. It comes from Bayou Lafouche," according to the KLFY report out of nearby Lafayette, Louisiana.
Unfortunately, according to this new report, Assumption Parish's Bayou Corne/Grand Bayou sinkhole problem began with a series of bubbles that began not there, but in nearby Bayou Lafourche.
This means that local sinkhole area people are getting their water from a source known to have methane in it.
Until a way can be found to stop the methane, nobody under the mandatory evacuation will be able to return to their home, the report highlights.
"The experts have never really seen anything like this before," Waguespack told Huebner. "This is really new science, and that's what's taking so long."
Waguespack says they need to get some 3-D seismic done.
Approximately three million cubic feet of material has gone into this cavern, according to Waguespack. He explained that the sinkhole itself only accounts for approximately 550,000 cubic feet of that material.
"So there is approximately 2. 7 million cubic feet of material that's entered the cavern that's unaccounted for," said Waguespack.
If and when the voids settle, the volume of the sinkhole could be expected to be six times its current size.
"They may be pockets and voids, and that might be one reason the sinkhole continues to grow as things settle down," said Waguespack.
"The problem that remains is how to get rid of the natural gas that scientists say believe is still down there," Huebner stated.
Four vent wells have been installed. The casing that is about 200 feet down has been perforated to try to get the natural gas vented out, but so far, this has been un successful, according to Waguespack.
"The gas is only 100 or 150 feet down," he said.
Butane stored in one of the caverns has added concern about an explosion that independent scientists have previously explained is a grave possibility.
"Butane explosion effects would differ from an H-bomb effects two ways: 1) It would take much longer and have insignificant radiation damage; 2) Temperatures reached would be lower, so the fireball, thermal radiation, and air blast radii would be smaller, but all three longer-lasting." (See: Sinkhole: H-Bomb explosion equivalent in Bayou Corne possible)
Within four months, methane bubbling had been observed at twenty-eight sites, according to some reports, including in Pierre Part, outside the mandatory evacuation zone but within hearing distance of loud "booms," seismic activity jolts and foul chemical odors nauseate and burn some residents.
Governor Bobby Jindal has not increased the mandatory evacuation zone, despite public outcry from across the nation petitioning him to protect people needing help to flee the catastrophe-in-the-making.
To date, Jindal has not publicly visited the sinkhole disaster site.
"The worst-case scenario, I guess, says Waguespack, "is if this gas in the aquifer comes to the surface and gets under some type of building, facility or structure and the bubbles come up and there's ignition."
Last month, independent physicists reported to Dupré that Assumption Parish's sinkhole methane could have traveled north through waterways or rock fissures and caused the Minden military bunker facility to explode during a meteorite event.
That explosion was reportedly felt across three southern states.