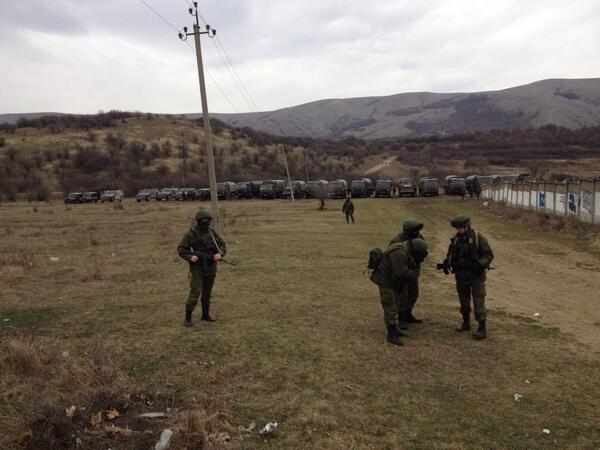 (Image: Daniel Sandford)
The main news from this morning are three things.  The first is that the Russians have recieved reinforcements in the Crimea.  Secondly that there have been multiple reports of Russian troops massing near the Ukrainian border near opposite Kharkiv.  And lastly and most important, the Russians have surrounded and more or less have laid siege to at least 7 Ukrainian military bases throughout the Crimea.
===============================
To put things into general perspective, all sides remain defiant.  Despite all the tensions, the fuse being lit, it has yet to go off.   Not a single shot has been fired.  It's amazing really.  There was supposedly a mass resignation/surrender of Ukrainian troops in the Crimea but I have yet to see any proof of that. In fact, I'm seeing quite the opposite.  Ukraine called up the reserves several hours ago.  I really haven't seen too much about it though surpringly.
So right now as it stands, things have somehow became even more tense than yesterday, armed stand offs saturate the Crimean landscape but no shots have been fired at this time.  Continue to stay tuned as I follow these intense developments in the Ukraine.  -Mort
THE LATEST:
Russian invaders captured the Ukrianian army base in #Fiolent", disarming all soldiers.
Hundreds of unidentified gunmen arrive outside Ukraine's infantry base in Privolnoye in Crimea.
There are at least 6 Ukrainain army bases besieged by Russian forces on #Crimea now. In #Belbek, #Sevastopol, #Belaklava, #Kerch, #Feodosia and #Perevalne.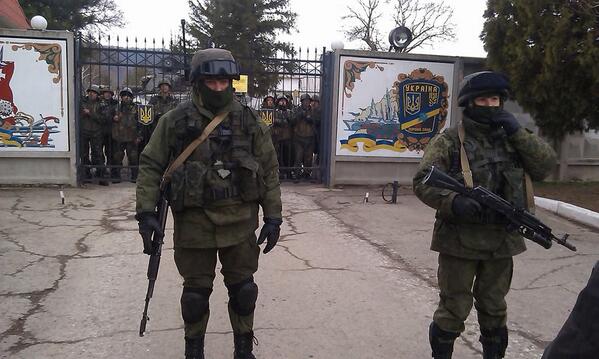 The Ukrainian army base in #Perevalne,25km south of #Simferopol,was surrounded by100s of invasion forces this morning but the commander Colonel Igor Mamchur vows to defend it.
THIS STORY GOT TOO BIG FOR PAGE SO CLICK ON TO SE IT TOO:
Ukrainian army commander of the 36th Brigade of the Armed Forces in #Simferopol says,his soldiers will "stand to death" vs.Russian invaders.
Russian forces surrdounding the 39th Training Group of the Ukrainian Navy in #Sevastopol. (see video)
The Ukrainian MoD reports,its ATC confirms the arrival of 11 more Russian combat helicopters and 7 IL-76 in #Crimea
#BreakingNews (must be the 3rd or 4th report in the last 24hours) Russian troops mass on the Russian side of the border near Kharkiv.  These are reported to be the 2nd Guards Red Banner Army,23th Separate Guards Motorized Rifle Brigade and 15th Separate Motorized Rifle Brigade
Ukrainian armed forces dispatched to Crimea have started resigning on a massive scale, reports RIA Novosti. Living quarters, weapons and ammunition have all been left under the protection of the so-called 'self-defense forces.' Letters of resignation have been coming in since early morning, as the self-defense forces continue to preserve order on the streets of Simferopol, RIA reported. Source
BBC TV reporting that Russian troops are digging trenches at the land border between Crimea and rest of Ukraine
Belarus Army on ALERT as NATO troops move towards #Ukraine. Reports #Crimea Source
Unconfirmed: US missiles shield in Poland on ALERT as Belarus moves Army on border. #Crimea Source
Russia's 3 news agencies RIA, Interfax and Itar-Tass now unanimously report mass resignations of Ukrainian mil in Crimea
Interfax: UKR naval inf (marine) Bn @ Feodosia reports it's blockaded by armed troops who ordered them to surrender by 1000L or face attack.
Russian forces try to seize anti-aircraft missile base in Ukraine's Crimea-Interfax
Russian military servicemen have taken weapons from a radar base and naval training facility in Ukraine's Crimea region and urged personnel to side with the peninsula's "legitimate" leaders, Interfax news agency said on Sunday. It quoted a Ukrainian Defence Ministry source as saying the Russian servicemen had taken pistols, rifles and ammunition cartridges from the radar post near in the town of Sudak and taken them away by car.
Another group of Russian military had also removed weapons from a Ukrainian navy training centre in the port city of Sevastopol, where Russia's Black Sea Fleet also has a base
AMERICANS BE WARNED: STOCK UP ON SUPPLIES NOW BEFORE IT'S TOO LATE!
Just like in this picture, Ukraine will be quickly be overwhelmed by Russian forces.
Can't you feel it? Something big is coming in the Ukraine which is going to impact everyone across the planet. However, most of you will sit on your hands until it is too late as you have deluded yourself into thinking that because the conflict is half way around the world, that you are safe. Nothing could be further from the truth, and if you knew your history, you would already have begun to prepare for what is coming.
Americans of the World War II era do not need to learn this lesson of history. If Russia invades Ukraine and the US becomes militarily involved, your access to vital and basic resources could be called into question. Any one born into the "baby boom generation" and younger, has no idea what you could be facing. We are not fighting the Viet Cong or Iraq, we could be fighting a super power who has a significant reach deep inside of this country. My advice to you America is to make a significant shopping run after you are done reading this article. 
Putin Has Won the First Battle of WWIII
It is now clear that the Russians are in complete control of the strategic infrastructure in Crimea. The Russians control the major roads, the government buildings, the airports, the key utilities and now there are reports surfacing that they are moving to control the distribution of food within Crimea. In short, Crimea is under Russian martial law.
The Ukraine Prepares for War with Russia
Nathan Frandino, Ukraine's national security chief, accuses Russia of being behind the seizure of Crimea's airports and warns against "direct aggression." The following video speaks to the fact that Ukraine has drawn a line in the sand. Unlike, Obama, the paper tiger, the Ukraine is prepared to meet the Russian incursion into Crimea with steadfast Ukrainian aggression. The following short video is an Ukrainian declaration of war against further Russian aggression against the sovereignty of the Ukraine within the Republic of Crimea. There is no interpretation needed for the following Ukrainian declaration of war.
Can Ukraine Survive the Coming Russian Invasion?
For over a week, the Russian military has had a 150,000 man contingent "on military maneuvers" within mere miles from the Ukrainian border. Historically, military maneuvers are a precursor for a war that has gone live. Ukraine's security council has ordered the Army to immediately put all military forces on war alert. However, Kiev's small and poorly equipped military is no match for Russia's incursion force into Crimea. My military sources tell me that the 150,000 Russian military force operating just off their border with Ukraine, could secure the country in less than three days unless the Russians encountered a decisive intervention from NATO. If the newly established pro-Western government of Ukraine is to survive, they will require military assistance from the West, primarily NATO and the forces of the United States in the very near future. The Russians reportedly have 7 to 10 days to close the door on any meaningful NATO intervention. In other words, if Putin is going to invade the Ukraine, it will be this week.
Without Western Support, Ukraine Could Be Facing Genocide
If the Russians move to subdue Ukraine this week before the West can respond militarily, deposed and pro-Russian Prime MinisterYanukovich could return to power. And given the brutality that Yanukovich displayed towards Ukrainians, a genocidal crackdown with Russian military support likely awaits the local citizens, particularly in Kiev where the protests were especially vehement. If the government of Ukraine were smart, they would begin to arm each and every citizen and begin to immediately coach them on how to carry out guerrilla warfare because the Ukrainian military could cease to exist in the next seven to ten days.
Options for the US Navy's Sixth Fleet
As the US Navy's Sixth Fleet moves towards Crimea, the Russian strategy of seizing the coastal ports and airports in Crimea now makes perfect sense. Without access to the ports and airports, American marines would find it difficult if not impossible to enter Crimea. There can be no question that the Russian Black Sea Fleet has deployed its submarines to a level where they will prevent the American navy from approaching Crimea and enacting a military intervention in support of the Ukrainian troops now trapped in Crimea. Meanwhile, if Putin acts now and invades Ukraine, it would make perfect sense. Possession, as they say, is 90% of the law. Clearly, NATO is not prepared to act in time to save Ukraine. If Russia is to attack to keep Ukraine from joining the European Union, the time is now.
Conclusion
There is no conclusion because these events are about to become very fluid. The only accurate conclusion that can be put upon this volatile situation is that if the Russians act now and they invade Ukraine, and the West does find a way to militarily respond, then Putin will have moved a long way in securing his long range goal of constructing an Eurasian empire capable of challenging the US anywhere in the world. Now I turn my attention to the title of this article, AMERICANS BE  WARNED:  STOCK UP ON SUPPLIES NOW BEFORE IT'S TOO LATE!  If the United States responds militarily, and the Russians retaliate, your ability to get food, heat your home, go to work and whole host of other factors will be called into question because the Russians will respond within the borders of the United States
THIS STORY GOT TOO BIG FOR PAGE SO CLICK ON TO SE IT TOO:
====================================
Russia has said China is largely "in agreement" over Ukraine, after other world powers condemned Moscow for sending troops into the country.
Hundreds of Russian soldiers have surrounded a military base in Crimea, preventing Ukrainian soldiers from going in or out.
Ukraine: Russia Delivers 'Assault Storm' Deadline
The convoy blockading the site, near the Crimean capital Simferopol, includes at least 17 military vehicles.
Russian troops are also reported to have taken control of a ferry terminal in the city of Kerch on the eastern tip of Crimea, which has a majority Russian-speaking population.
Ukraine's defence ministry said two Russian fighter jets violated the country's air space in the Black Sea on Sunday night and that it had scrambled an interceptor aircraft to prevent the "provocative actions".
And reports claimed pro-Russian protesters had occupied a floor of the regional government building in Donetsk. The 11-storey building has been flying the Russian flag for the last three days.
Ukrainian prime minister Arseny Yatseniuk has insisted his country "will never give up Crimea to anyone" and urged Russian forces to withdraw.
Mr Yatseniuk said: "I was and am a supporter of a diplomatic solution to the crisis, as a conflict would destroy the foundations for stability in the whole region."
In an interview with Sky News, Foreign Secretary William Hague said the crisis is likely to take some time to resolve.
He said: "I think we probably are looking at a long period of very active diplomacy and looking for solutions to this since there is no sign of a change in the Russian position on this.
"It's impossible to be optimistic at the moment. We're not in any position to be optimistic about the security situation and what is happening in the Crimea."
The crisis has had a huge knock-on effect on global stock markets, with Moscow's stock exchange plunging as much as 10% on Monday morning.
Russia's central bank raised its rate to 7% from 5.5% as the ruble hit an historic low against the dollar and the euro.
Russian foreign minister Sergei Lavrov discussed Ukraine by telephone with his Chinese counterpart, Wang Yi, on Monday, and claimed they had "broadly coinciding points of view" on the situation there, according to a ministry statement.
Speaking at the UN Human Rights Council in Geneva later, Mr Lavrov said Russian troops were necessary in Ukraine "until the normalisation of the political situation" and dismissed threats of sanctions and boycotts.
He added: "We call for a responsible approach, to put aside geopolitical calculations, and above all to put the interests of the Ukrainian people first."
Chinese foreign ministry spokesman Qin Gang said: "China has always upheld the principles of diplomacy and the fundamental norms of international relations.
"At the same time we also take into consideration the history and the current complexities of the Ukrainian issue."
As the tense stand-off continues, the other seven nations of the G8 urged Moscow to hold talks with Kiev.
"We, the leaders of Canada, France, Germany, Italy, Japan, the United Kingdom and the United States and the President of the European Council and President of the European Commission, join together today to condemn the Russian Federation's clear violation of the sovereignty and territorial integrity of Ukraine," they said in a statement.
"We have decided for the time being to suspend our participation in activities associated with the preparation of the scheduled G8 Summit in Sochi in June."
British Foreign Secretary William Hague, who is in Kiev for talks on the crisis, said Russia has taken operational control of Crimea.
He described Russia's intervention in Ukraine as the biggest crisis in Europe in the 21st century.
At a news conference with Mr Yatseniuk, Mr Hague said: "If this situation cannot resolve itself, if Russia cannot be persuaded to respect the sovereignty and territorial integrity of Ukraine, there will have to be other consequences and other costs."
Mr Hague added: "The UK is not discussion military action, our concentration is on diplomatic and economic pressure."
Prime Minister David Cameron will later chair a meeting of the National Security Council on the "British and international response to the grave situation in Ukraine", where he will press for a European summit on the crisis.
European foreign ministers are holding an emergency meeting on Ukraine in Brussels to table a joint response to the military incursion.
Mr Yatseniuk heads a pro-Western government that took power in the former Soviet republic when its Moscow-backed president, Viktor Yanukovych, was ousted last week.
US Secretary of State John Kerry will visit Kiev on Tuesday to show "strong support for Ukrainian sovereignty".
Meanwhile, Ukraine launched a treason case against its new navy chief after he switched allegiance to the pro-Russian Crimea region.
Rear Admiral Denis Berezovsky was appointed head of Ukraine's navy on Saturday.
But a day later he appeared before cameras, alongside the pro-Russian prime minister of Crimea's regional parliament, saying he had ordered Ukrainian naval forces there to disregard orders from "self-proclaimed" authorities in Kiev.
Russian President Vladimir Putin on Saturday won parliament's authorisation to use force in Ukraine.
====================================